Cliquez ici pour la version française

1. It is glorious, anywhere on earth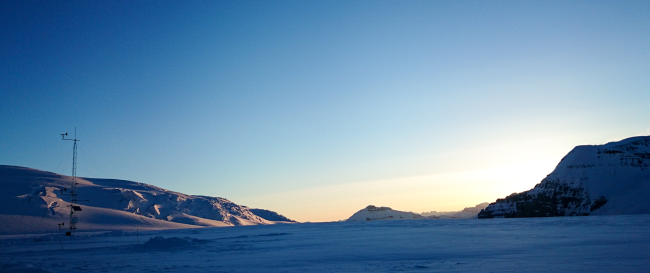 Made by wild, cold-conquering Canadians, this camera is specifically designed for remote, unattended, battery powered installations. You can put the camera anywhere on earth, and it will dominate with the trusted reliability of a Campbell Scientific system.
Bonus: You can make very cool time lapses.
2. Auto
Zoom Presets and 18x Optical Zoom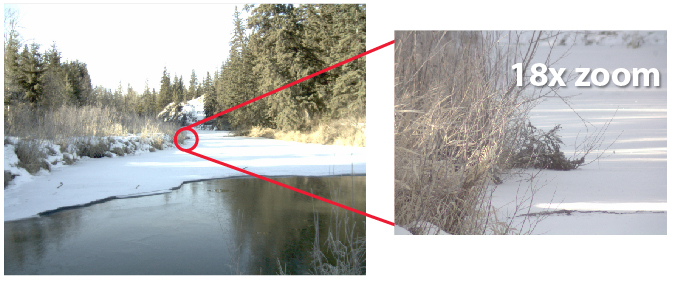 Sometimes you need a wide angle shot AND a zoomed in close-up of your subject for each capture event. This is where the CCFC Field Camera shines. The camera's auto focus feature enables it to automatically re-focus at each zoom length, so each capture event records a collection of clear photos and video. And the camera's high quality 18x optical zoom lens ensures crisp detail in every photo.
3. High Definition Video
With the CCFC Field Camera, you can record 720p high definition video. Various compression rates are available for both images and video to ensure you can configure your media to an appropriate size for your chosen communications method and length of time between media retrieval.
4. Capture Images at Night
Are you frustrated with the poor quality of your nighttime images? Not anymore. The CCFC Field Camera is equipped with two IR LED's and configurable Night Mode settings, so you can capture images under almost any lighting condition.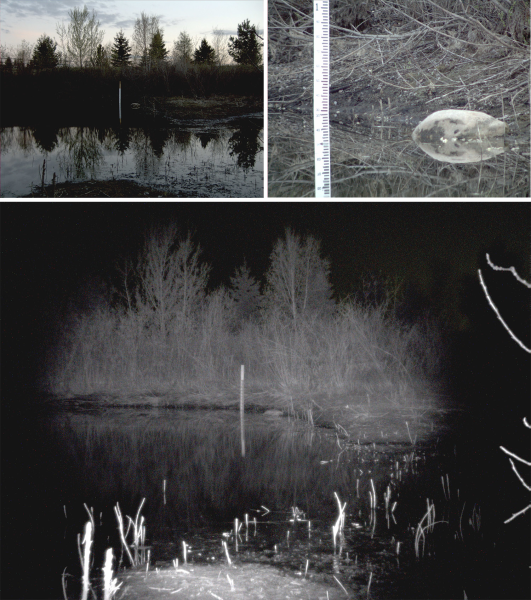 Staff gauge from 50 ft away. Click image to enlarge.
Top left and left: Shot at 9pm (sunset). The CCFC automatically compensates for low light with longer exposure time. You can see the staff gauge and water level quite clearly at 18x optical zoom.
Bottom: Shot at 10:45pm in full darkness with almost no ambient light. The illumination is entirely from the integrated IR LEDs, which reveal the staff gauge, as well as the trees and brush in the foreground and background.
5. New Easy to Use Web Interface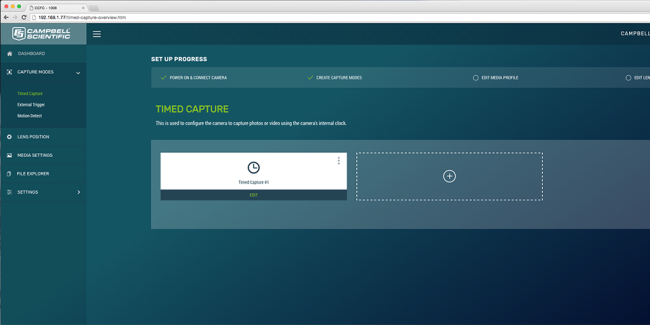 We created a brand new web interface for the feature-rich CCFC that makes configuration and retrieval simple. Not only can the interface be accessed using all your existing technology (i.e. smartphone, tablet, laptop) but the workflow is as familiar as "Googling."
6. Wi-Fi Control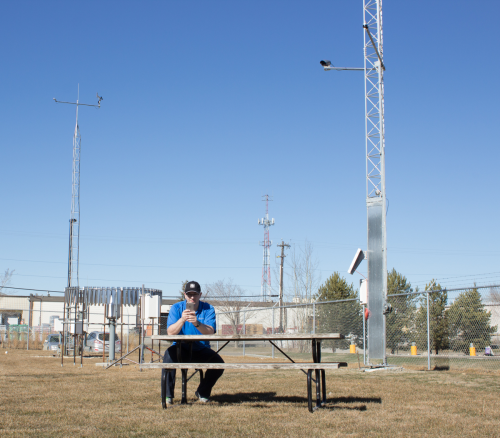 The CCFC's built-in Wi-Fi lets you mount the camera in its final location, and then connect your device to the camera's user interface where you can take test pictures, confirm zoom presets, retrieve captured media, and more; all from the safety of the ground!
Related article: Camera Technology - Eye on the World, by Alexia Lane, published in Meteorological Technology International Magazine.