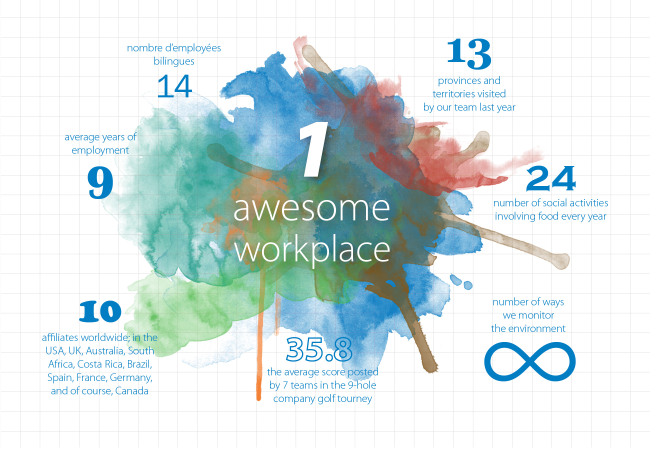 All around us, decisions are made that affect our world. At Campbell Scientific Canada, we take pride in knowing we make a difference to the environment and to the people we care about. At CSC we help scientists, CEOs, and even politicians make informed choices based on strong, science-based data derived from our top-quality instrumentation. We provide technology, expertise, and passion for the environment. Our people are driven, fun-loving, and caring individuals. We endeavor as a team and work for what matters to us.
It is rewarding to work for a company that has a positive impact on society and the environment. Located in Edmonton, Campbell Scientific (Canada) Corp. (CSC) employs over 75 people dedicated to delivering state-of-the-art measurement and control systems to customers all over the world. CSC offers competitive compensation packages coupled with an emphasis on work-life balance.
Campbell Culture
We support and maintain a workplace culture of integrity that is founded upon our five Core Values and our Core Purpose.
Our Core Values
Accountable
Get engaged with your work and do the hard things.
Do what you say and fully deliver on your commitments.
Take responsibility.
Respectful
Treat everyone with trust, humility, and respect.
Keep a positive attitude and lift others up.
Be direct, transparent, and offer thoughtful solutions.
Assume positive intent and trust others.
Client-Centric
"Trust" is our one-word promise to clients.
Easy to do business with.
Dedicated to understanding and resolving the problems clients face.
Passionate about serving clients.
Team Player
Act with a mission of service.
Put the team before the individual.
Motivate and support each other to improve and achieve more.
Innovative
Foster and embrace innovation from anywhere and anyone.
Be curious; ask difficult questions.
Be resourceful; healthy constraints enhance creativity and innovation.
Continually Improving
Strive to improve.
Explore your intuition.
Make data-driven decisions.
Embrace change in the pursuit of improvement.
Our Core Purpose
Extending measurements to insights…because what we do makes a difference.
Career Development
We want you to grow with us! We believe our success depends on the growth and performance of our employees. Our Management Team is dedicated to enabling employees to develop their careers. Here is how we make it happen:
On-going training - Whether it's to keep up-to-date or learn new skills, continuous learning keeps us moving forward. Each employee is encouraged to attend training opportunities every year.
Clear and consistent communication - We want you to understand the role you play in the company's success and the effect of your contributions on the strategic initiatives of Campbell Scientific.
Mentorship - Your professional development will be encouraged through ongoing coaching and direct feedback on your performance.
Recruitment Process
When it comes to finding the best employment fit, our recruitment process is just as important to us as it is to you. While you need to ensure that Campbell Scientific is the best match for your skills and interests, we need to ensure that you possess the required knowledge, skills, abilities, and behaviors to fulfill the responsibilities of the position. Throughout the recruitment process, we ask that you evaluate and be sincere about whether Campbell Scientific is the type of environment in which you can see yourself working.
To assist you in the process, we ask that you know:
1) Yourself
Your skills, interests and values
Your work preferences
Your career aspirations
2) Our Organization
Who we are
What we do
Our Core Values and Core Purpose
3) The Position you are applying for
An understanding of the role
The education, qualifications, and experience required
How you can add value