Overview
Campbell Scientific (Canada) (CSC) began operations in May 1978 in Edmonton, Alberta and was federally incorporated in June 1980. Since its inception, CSC has been the exclusive Canadian distributor of Campbell Scientific, Inc. equipment, specializing in the development, sales, and maintenance of data acquisition systems.
With company sales growing rapidly, a repair and servicing facility was established in 1981. By 1986, a production facility to manufacture sensors and peripherals of various types was created in order to improve delivery times. In 1988, CSC secured the manufacturing rights for an ultrasonic snow depth sensor from Environment Canada (then the Atmospheric Environment Service). The original sensor went through three meticulous redesigns, making the unit more robust and sensitive to the demands of snow depth and water level measurement, and is now used worldwide in these applications. Currently, there are more than 6,000 SR50/SR50A ultrasonic sensors in use around the globe. CSC has recently introduced our second generation, state-of-the-art CC5MPX, a 5-Megapixel Digital Camera, which has been received with great enthusiasm where remote, unattended monitoring is required. CSC, in a partnership with Hydro Quebec, manufactures the CS725, a non-contact Snow Water Equivalent (SWE) sensor, an alternative to traditional snow pillows commonly used today.
CSC continues to be dedicated to supplying instruments of the highest quality at a reasonable price. As the company has expanded and matured, we have also increased the variety of products we carry to better serve the demands of our customers. The most significant was the inclusion of the R. M. Young Company product line in 1990. The R. M. Young group of indicators, sensitive and operational wind instruments, and temperature sensors, are a perfect complement to Campbell Scientific's line of compact, battery operated, programmable dataloggers. Initially designed to serve the stringent requirements of scientists and engineers involved in agricultural and meteorological research, both product lines are manufactured to the highest standards and capable of operating in a wide range of environments from the two poles and everything in between. Kipp & Zonen solar radiation sensors and water quality monitoring products from Hydrolab were added to the CSC product line in 2000 to further broaden our ability to serve many different monitoring applications.
Our extensive product range addresses a broad spectrum of markets, from agricultural and hydrological research to environmental monitoring networks, with sophisticated communications and a wide range of industrial applications including vehicle testing (automotive, railway, mass transit), mining, oil and gas production, and engineering. As the expectations of scientists and engineers increase with advances in technology, Campbell Scientific (Canada) maintains our lead in the market and will continue to do so by taking advantage of the latest innovations. The combined worldwide sales of Campbell companies are now in excess of 100,000 dataloggers (approximately 8,000 in Canada).
CSC currently employs 50 people, including a product development group, a production/repair facility and technical consultants who serve in our Environmental, Water Resources or Industrial Applications Groups. Additionally, CSC maintains an extensive inventory of products to support service, manufacturing and improved delivery times of systems to our clients.
With our awareness of market demands, matched only by our commitment to research and development, Campbell Scientific is approaching the future with further development of a range of sophisticated new products, which are scheduled for release in the next few months.
Special Services
Monitoring/Data Acquisition Workshops
The majority of our client base is self-taught using our detailed instruction manuals. However, Campbell Scientific offers a variety of Monitoring/Data Acquisition Workshops, which are based on a hands-on approach.
General Courses - CSC routinely offers a two day General Course at our Edmonton facility. Individuals who complete the General Course will leave with a solid understanding of the logic behind a Campbell System, which will allow them to set up systems for almost any application.
Private Courses - We offer private courses either by travelling to the customer's facility or holding them at our Edmonton location, with the concept of the private course being similar to our in-house workshops but tailored to the client's specific application.
Advanced Courses - These courses are generally offered to clients who have already taken a general or private course. The advanced course focuses on advanced communications, programming and trouble-shooting.
Installations and On-Site Maintenance
Campbell Scientific (Canada) Corp. has a long history of installing turnkey systems for our customers throughout Canada including locations with harsh environments like the Arctic. This process includes the system design and programming of the logger in consultation with the client. As part of the installation phase and when required, Campbell Scientific will provide specific hands on training. Many of our customers find this the most efficient and cost effective method of commissioning a new system and even contract Campbell Scientific to do the on-site maintenance of their systems.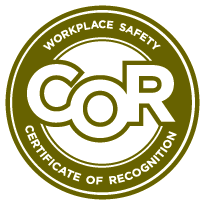 In 2016, CSC attained our Workplace Safety Certificate of Recognition (COR).
Prewired, Quick Connect & Programmed Systems
In response to those customers with limited human resources, Campbell Scientific (Canada) Corp. offers systems with Quick Connectors which reside on the underside of the datalogger enclosure. This makes field deployment and maintenance of individual sensors easy. These systems are pre-wired, pre-programmed and tested before they are shipped to the client.
Custom Products
Campbell Scientific (Canada) Corp. understands that each measurement and control application is unique. We are committed to assisting our clients in the design of a custom measurement system for their specific monitoring needs, with the flexibility of the Campbell datalogger allowing us to connect to virtually any required sensor.
In-House Facilities
Product Design
Solid Works and AutoCAD are used for site drawings for station installations, and to produce working drawings, assembly guidelines and mechanical designs for new products. Protel is our program of choice for developing electronic circuit board designs.
Production
Our facilities include highly efficient and experienced personnel for the assembly of associated peripherals and sensors and the manufacture of complete systems tailored to the customers' requirements. Large production efforts, such as stuffing of circuit cards, are carried out by ISO 9000 registered and certified third party companies, with final assembly and testing completed in-house. Our inventory includes upwards of 4000 finished products, unfinished products, and spare parts.
Test, Repair and Calibration
CSC has acquired a comprehensive range of test equipment, which is serviced and calibrated yearly to NIST (National Institute of Standards and Technology) values. A series of environmental freezers, plus a state-of-the-art environmental chamber for testing electronic equipment over the range of
-65°C to +85°C, ensures that Campbell Scientific products will operate to specification in harsh conditions. This is a major segment in the testing and evaluation of our products and components.
Key Personnel
Brian Day, President and CEO
Brian Day is a B.Sc. (Hon) graduate of Laurentian University and began network design and system integration of low powered monitoring and data acquisition systems when this technology first became available in Canada in 1978. As a consultant to leaders in the fields of scientific research, education and government, Mr. Day works with these groups on developing standards in proper measurement techniques and data analysis. Mr. Day is the Managing Director of Campbell Scientific (Canada) Corp., with responsibilities that include all project management, operations and supporting functions.
Carl de Leeuw, VP of Sales & Marketing (CMO)
Carl de Leeuw holds a B.Sc. in Physical Geography and graduated from the University of Toronto in 1986. Mr. de Leeuw has extensive experience in research, cartography and hydrogeology and is the designer of the Canadian Military's Met Ranger 1 Quick Deploy Weather Station. He has been with Campbell Scientific (Canada) Corp. since 1988 beginning as an applications technician. He managed our Eastern Canadian operations for eight years. In 1999 he assumed responsibility of our Marketing/Sales/Support Department for all of CSC. He is a director of the company and serves on the CSC Board. In 2010 he became the VP of Sales & Marketing.
Glenn Bosch, VP of Operations (COO)
Glenn has been working with government and non-government organizations for several years providing management consulting, project management and business analysis. Notable achievements include his involvement with the Alberta Communicable Disease and Outbreak Management System and integrating the University of Alberta's Registrar's Office with a province wide registration process (Apply Alberta). Glenn's consulting career included time spent with a large international firm and also operating his own company since 2004. Glenn joined Campbell Scientific (Canada) Corp, in 2010. Glenn has a Master's of Business Administration and Bachelors of Education Degree from the University of Alberta, and a Computer Systems Technology Diploma from Northern Alberta Institute of Technology.
Company Mission Statement
Campbell Scientific (Canada) Corp. (CSC) is dedicated to developing and providing cost effective, quality solutions to our clients' measurement and control instrumentation needs. Its employees, customers and suppliers, and their perception of how well CSC balances the following guidelines, will judge the measurement on how successful this company is in executing the Mission Statement.


Individual dedication to understanding the client's needs and the importance they place on the information and data our products provide.
Providing quality workmanship, service and products while controlling costs.
A current knowledge base of appropriate technologies.
A positive, safe working environment for our employees which provides opportunities for personal growth, for if our employees are challenged and learning, our clients will be forever better served.
Effective communication between employees. This is mandatory both to increase efficiency and to foster a sense of common purpose, with each employee being aware of the company's objectives and how their individual effort is helping us to attain them.
Employee compensation and benefits according to individual accomplishment, company financial position, and competitive demand for comparable talent.
Freedom of financial, legal or other control from those unfamiliar or unsympathetic to the company philosophy and purposes.