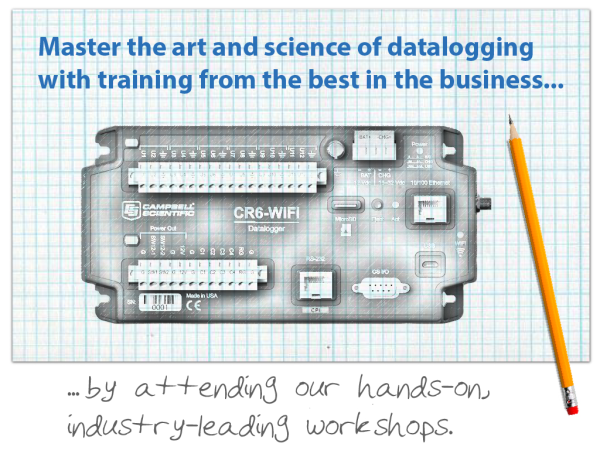 Why take a training course? Read the article Datalogger Confidence: How training can further your career and put you ahead of the crowd
Campbell Scientific Canada offers various training courses throughout the year at our Edmonton facility and at locations across the country. Our instructors are highly skilled and have extensive experience with our equipment. They are easily approachable, can answer all of your questions and can even help you with some troubleshooting during the course. We strive to provide a comfortable and relaxed learning environment where students can focus on improving their skills with our data acquisition equipment.
Introduction to CrBasic Datalogging Course
The skills gained in this 2-day course will be applicable towards all Campbell dataloggers (i.e. CR6, CR1000, CR300, etc.) which are widely used in Canada and abroad. You will be introduced you to the power and flexibility of Campbell equipment, and you will gain the confidence to configure your own equipment and explore the potential of Campbell dataloggers. The course provides an excellent opportunity to connect with a monitoring expert as well as other like-minded people in the industry. Suitable for those with limited or no datalogger experience.
Extended Datalogger Programming and Communications Course
CSC offers an intensive 2-day hands-on monitoring and data acquisition course for Campbell Scientific dataloggers and software. Expand your programming skills by covering advanced programming applications such as multiplexers, serial communication, Internet protocols, security, etc. You will gain thorough experience utilizing powerful and flexible Campbell equipment, giving you the confidence to manage and configure your own equipment. Suitable for those with some experience, who have already completed Introduction to CrBasic Datalogging, and who are looking to further their knowledge of monitoring technology.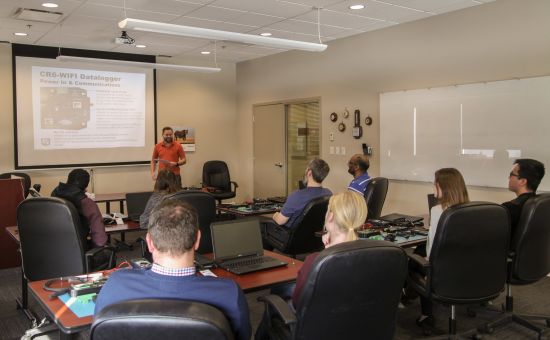 Not seeing the training you need? We can accommodate your training needs by organizing a custom course for you or your company either at your location or at our facility here in Edmonton. Contact us at dataloggers@campbellsci.ca or call 780-454-2505 to discuss your custom course.