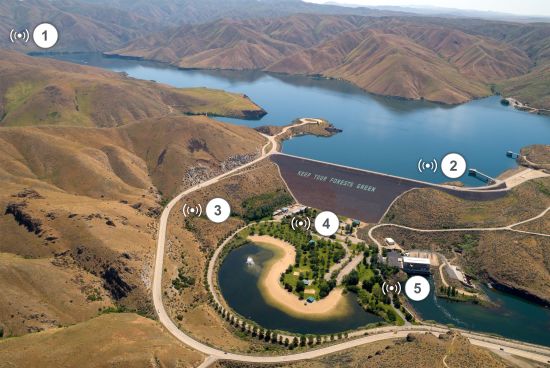 Inflow and precipitation
Reservoir level
Slope stability
Seepage
Outflow
Geotechnical Measurement Automation Platforms
The versatility of our platforms allows them to be customized for each application. We offer a range of platforms, from the most basic device with just a few channels to expandable platforms that measure hundreds of channels. Scan rates can be programmed from once every few hours to 10,000 times per second, depending on the model. Measurement types, processing algorithms, and recording intervals are also programmable.
The measurement automation platform has a simple, yet powerful on-board instruction set: simply choose the sensor type, scan rate, and measurement channel. On-board mathematical and statistical processing allows data reduction in the field and enables measurements to be viewed in the desired units, whether that is microstrains, centimeters per second, revolutions per minute, meters, Amperes, or inches.
The versatility of the measurement automation platform extends to control as well. Each platform can monitor and control external devices based on time or measured conditions, allowing savings in time and equipment, and warning of—or possible prevention of—dangerous conditions. These platforms are rugged enough to be used in geotechnical studies and dams worldwide.
The measurement automation platform can stand alone. Once programmed and powered, no human or computer interaction is required, although data are typically downloaded to a PC or exported to the cloud for further analysis. A telecommunication or hardwire link allows data to be monitored and graphed in your office rather than in the field. Data from various stations and applications can be monitored from a single laptop or desktop computer.
The low power drain typically allows our platforms to be powered by solar panels and batteries. If 110/220-Vac power, vehicle power, or external 12-Vdc batteries are available, you can use those as well. Nonvolatile data storage and a battery-backed clock ensure data capture and integrity.
Sensors Used for Geotechnical Measurements
The versatility of our measurement automation platforms begins with sensor compatibility. Our platforms can measure virtually every commercially available sensor, allowing them to be used in different ways for a variety of measurements. For example, the following are common parameters that the sensors in our platforms measure:
Barometric pressure
Pore water pressure
Water level
Water flow
Temperature
Weight
Force
Pressure
Strain
Tilt
Deflection
Inclination
Settlement
Displacement
Elevation
Humidity
More specifically, these are the sensor types commonly used in our measurement automation platforms:
Foil-bonded strain gauges
Vibrating-wire strain gauges
Strainmeters
Extensometers
Jointmeters
Crackmeters
Deformation meters
Piezometers
Pressure transducers
Barometers
Settlement sensors
Borehole pressure cells
Earth pressure cells
Load cells
Pressure cells
Inclinometers
Tiltmeters
Tilt beams
Stressmeters
Thermistors
Thermocouples
Deformation sensors
Accelerometers
Sonic water-level sensors
Displacement transducers
Linear variable differential transformers (LVDT)
Because our measurement automation platforms have many channel types and programmable inputs, all these sensor types can be measured by one device. Channel types include analog (single-ended and differential), pulse counter, switched excitation, continuous analog output, digital I/O, and anti-aliasing filter. Using switched or continuous excitation channels, our platforms provide excitation for ratiometric bridge measurements.
The following are common sensor measurement types that our measurement automation platforms are compatible with:
Frequency
Resistance
Voltage
Ratiometric
Current
Modbus RTU
RS-485
SDI-12
Communications
The availability of multiple communications options for retrieving, storing, and displaying data also allows platforms to be customized to meet your exact needs. Onsite communications options include direct connection to a PC or laptop, PC cards, storage modules, and platform keyboard/display. Telecommunications options include short-haul, telephone (including voice-synthesized and cellular), radio frequency, multidrop, and satellite.