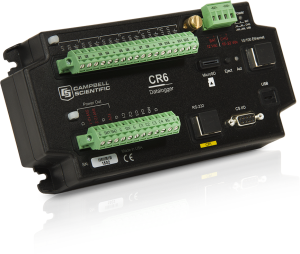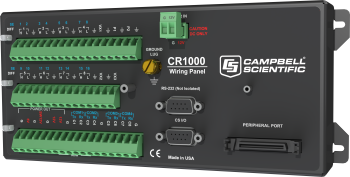 Campbell Scientific's CR1000 datalogger has become a valued central component in tens of thousands of applications, worldwide. It has been proven in the harshest environments, trusted to operate reliably in remote, standalone installations. We have now developed the CR6 datalogger to have that same type of wide-ranging usefulness and ruggedness, with new features to expand on the history and reputation our products have built for decades.

Many of you have used the CR1000 for years, and have become accustomed to its capabilities. As you plan future new projects or expansion or maintenance of existing installations, we can help you determine if the CR1000 is still the best choice, or if the CR6 will better fill your needs.

What problems are best solved by the new CR6 Measurement and Control Datalogger?
My secure socket connections are a little on the slow side.
I wish my datalogger-hosted web page were a little more responsive.
I wish there were more ports for serial sensors.
I want a datalogger that will speak directly to my RS-232, RS-422, or RS-485 sensors without an external interface.
When doing analog measurements, I need better resolution.
I need a built-in charge regulator to connect directly to my solar panel and battery.
I want the datalogger to be powered from my 24 Vdc power system without extra hardware.
I would really like to reduce system cost by doing static vibrating-wire measurements directly with my datalogger.
I place great value on having removable wiring terminals in the field.
I wish there were a second SW12 terminal.
I wish I could measure more than two anemometers with low-level ac outputs.
I'd like to have the best interface for my new CSAT3B 3-D sonic anemometer or IRGASON.
I will use multiple CDM devices on my datalogger.
If none of the above applies, the CR1000 is probably still the right datalogger for you.