All sensors and measurement equipment will require calibration, maintenance, and repair at intervals throughout their lifetime.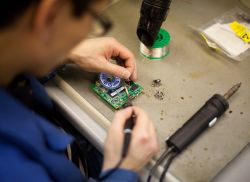 Regular calibration and maintenance ensures measurements remain precise and that output is accurate and reliable. Planned calibration and maintenance services are the most effective way to ensure uninterrupted measurements and data flow.
Several of our facilities contain a comprehensive collection of testing and calibration equipment, and our experienced technicians are trained to provide high-quality, efficient repair and calibration services.
The Campbell Scientific Canadian office is ILAC MRA-A2LA accredited to provide calibrations for data loggers, humidity sensors, pyranometers, and wind speed and direction sensors to ISO/IEC 17025:2017 standards. All calibrations cover functional testing and traceable calibration with calibration certificates and have service reports available upon request. For more information about ISO 17025, visit the Campbell Scientific Canada calibration page.
Field repairs and maintenance
If you require support in the field, visit our Installation, Commissioning, and Maintenance Services page and contact us to discuss your requirements.