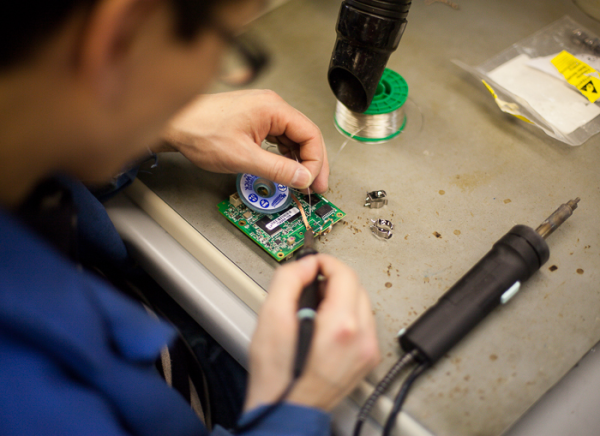 An integral component of Campbell Scientific is our in-house repair department. Our repair department is responsible for testing, calibrating, and repairing the equipment purchased by our Clients. The Campbell Scientific repair staff are committed to efficiently and reliably meeting your needs, and will have your equipment back to you as soon as possible.

Campbell Scientific has a comprehensive range of testing and calibration equipment. Included among our equipment are several environmental test chambers, which allow us to test equipment over a range of -65 to +85° Celsius. Our repair and calibration facilities include a water quality lab, solar calibration lab, and are equipped to service data loggers, relative humidity sensors, anemometers, precipitation guages, field cameras, snow depth sensors, snow water equivalency sensors, and much more.
These facilities and related equipment continually receive upgrades to better meet high industry standards and the needs of our customers, all with the goal of ensuring the reliability and accuracy of all measurements.
Need servicing for a product?
Please follow the guidelines below if you would like to return a product for servicing
Please note the following:
The guidelines on this page apply only to customers residing in countries served by Campbell Scientific (Canada) Corp., directly. Affiliate companies handle repairs for customers within their territories. Please visit our Contact Us page if you need to find out which organization serves your country.
Products may not be returned without prior authorization and an RMA number (instructions for obtaining this are found below).
All products returned for service must be (1) clean and (2) uncontaminated by harmful substances, such as hazardous materials, chemicals, insects, and pests. To verify this, the Statement of Product Cleanliness and Decontamination form must be completed for the products you are returning.
Repairs or Maintenance
Follow these steps to return products for repair or maintenance:
Someone from our Sales & Technical Support team must determine the nature of the problem. To contact our Sales & Technical Support team, contact Campbell Scientific (Canada) Corp., by phone at 780-454-2505.
After the Sales & Technical Support staff determines the nature of the problem, you will be given a returned material authorization (RMA) during the same phone call or by email.
You will then receive an RMA Confirmation email that contains instructions for completing the required paperwork and shipping the product.