One of the things I love about my job is the chance to get into the field. When I was just pocket-sized, our group motto was "Be prepared . . . for (almost) anything."
I always carry these things in my toolbox:
Voltmeter
Screwdrivers
- Flat-blade (pn 1113)
- Phillips-head (pn 6290)
- Small flat-blade (pn 8125)
Wire cutter/stripper
Crescent wrench
Pliers
Pad and pen
Campbell support phone number
Laptop, fully charged, with software
and drivers installed
For some sites I also carry:
CR1000KD
Formatted CompactFlash cards
SC115 CS I/O-to-USB drive
SC12 two-peripheral connector cable
SC32B optically isolated RS-232 interface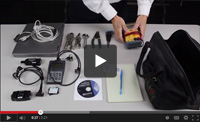 See this tip in action.
What's in your toolbox? Let me know at info@campbellsci.com. Put "Tip's toolbox" in the subject line.
Semper paratus,