Image Gallery
LoggerLink Mobile Apps are simple yet powerful tools that allow an iOS or Android device to communicate with our CR200X, CR800, CR850, CR1000, or CR3000 dataloggers via an IP device (NL115, NL120, NL201, NL240, RavenXTV, RavenXTG). LoggerLink for Android also supports Bluetooth communication for these same dataloggers using an RS-232-Bluetooth adapter. The apps support field maintenance tasks such as viewing and collecting data, setting the clock, and downloading programs.
Note: An Android device will not, by default, connect to an ad hoc network. However, some smartphones and tablets may be configured so that they will work in an ad hoc network. Consult with your wireless provider for information on setting up your device for connection to an ad hoc network. For more information about ad hoc networks, see the Compatibility tab.
LoggerLink mobile apps are purchased through the Apple Store or Google Play.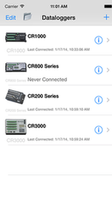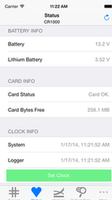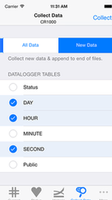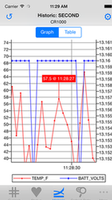 Benefits and Features

View real-time data
Graph collected data
Collect data
Set variables and toggle ports
Check important status information about the health of the datalogger
Perform field maintenance such as send program, set clock
Manage files
View current data tables in graphical or tabular format

Case Studies