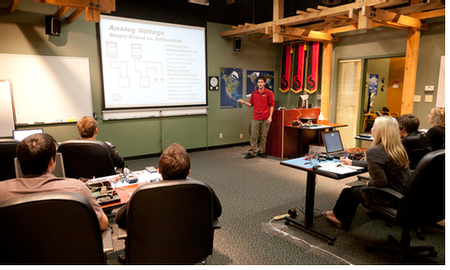 Campbell Scientific Canada offers a standard 2-day training course for our dataloggers and software. This comprehensive course is designed for those without much datalogger experience, or for those wanting to increase their knowledge. The course has an emphasis on programming. "Hands-on" programming exercises are used to reinforce the concepts covered by the instructors.
CR1000/LoggerNet Training
This is a introductory, hands-on training course. It is intended for students from all disciplines. This class is based around LoggerNet and the CR1000, but is relevant for users that have a CR3000, CR1000, CR800, or one of the CR200X series dataloggers.
Campbell Scientific You Tube Channel
Our You Tube channel provides comprehensive online video tutorials for various CS equipment.
Check out our latest maintenance training video where Robert Herfst explains how to change the wind speed bearings in a R.M. Young Wind Monitor.

Not seeing what meets your needs? Contact Campbell Scientific for training at your location or customized courses.
Available Training Courses
Need more info?
For more information on training courses at Campbell Scientific Canada or if your desired course is full, please contact Julie Blais at 780.454.2505 or email julie.blais@campbellsci.ca.
Visit our tutorials page for a list of various application and product tutorials.
Environmental Monitoring & Instrumentation - Summer Course @ Barrier Lake Station
This course is offered by CSC through the Biogeoscience Institute (BGS Institute) of the University of Calgary. The course will be an introduction to techniques and instrumentation for monitoring the physical environment. The course content will include some of the main physical parameters of air, aquatic, and soil environments, the sensors used to measure them, as well as the practical realities of field installations and maintenance. The intent of the course is to give the student a good basic understanding of field monitoring: design and planning of measurement protocols, equipment considerations, installation and datalogger programming issues, as well as an overview of program and data management. The sessions will be a mix of classroom time along with field/lab work.
For more information or to enroll, visit the BGS Institute site or contact Claude Labine: