Road Weather Information Systems (RWIS)
Campbell Scientific Canada designs, installs, and maintains industry-leading road weather information systems (RWIS) to meet the environmental monitoring challenges of our municipal, provincial, and corporate clients. Our experience implementing advanced RWIS solutions in some of the world's most unpredictable climates, and for clients with incredibly unique challenges, has made us a true leader in the industry.
Which RWIS Solution is Right for You?
All CSC RWIS solutions are designed to be:
Rugged

to withstand even the harshest environmental conditions

Low-power

offering either solar or AC power, depending on your needs

Compatible

allowing for easy integration with any 3rd party hardware or software

Customizable

utilizing customer in control technologies (CCT) that allow you to modify your RWIS sensor configuration to meet your requirements
Whether you're looking to build a new RWIS network, expand or densify an existing network, or are seeking cost-effective alternatives to full RWIS stations, CSC has a solution for you.
Solutions for Establishing or Expanding an RWIS Network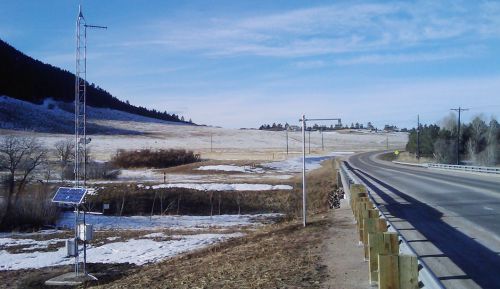 For our clients looking to establish or expand an RWIS network, we offer 2 full-scale RWIS solutions: invasive or non-invasive.
"Invasive" Solutions
Consists of both a roadside station to accommodate equipment, as well as intelligent surface sensors embedded directly into the roadway, flush to its surface.
"Non-invasive" Solutions
This solution consists of a series of sensors mounted on a station above/beside the road, eliminating the need for road surface construction, making it a budget-friendly option.
Typical systems include tower, RPU, two in-road sensors ('invasive' solution only), and remote communication hardware, as well as sensors for the measurement of wind speed and direction, air temperature, humidity, dew point, barometric pressure, solar radiation, and precipitation. See the 'More Details' section below for specific hardware and sensors information.
Cost Effective Solutions for Monitoring & Densification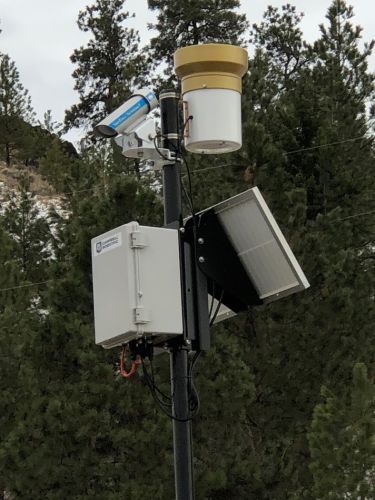 For our clients looking for smaller-scale solutions to fit within budget, or clients looking to densify their existing RWIS network to measure micro-climates, we recommend our WeatherBrain solution.
WeatherBrain stations are low cost, low power, quick-deploy road weather stations designed to stand-alone or integrate seamlessly with existing RWIS networks at a fraction of the cost of traditional RWIS stations. Finally you can monitor more of your road network and significantly improve public safety, all within budget.
Typical systems include a quick-deploy post, RPU, remote communication hardware, as well as sensors for the measurement of road surface temperature, wind speed and direction, air temperature, humidity, barometric pressure, and precipitation. See the 'More Details' section below for additional information on the specific hardware and sensors used on WeatherBrain stations.
Additional RWIS Services
Maintenance
Expert maintenance of your RWIS network stations is crucial to ensuring consistent, high-quality road weather data, as well as limiting downtime in the event of an unexpected hardware failure.
CSC's expert field services staff offer both proactive, scheduled maintenance services, and on-demand maintenance services as you need them. Regardless of the hardware on your station - whether its from CSC or other vendors - our experts will inspect, repair, and recommend a maintenance schedule to ensure your network functions without issue.
Environmental Intelligence
In addition to cost-effective RWIS stations, WeatherBrain also consists of an optional add-on software platform for environmental decision support. Add the WeatherBrain software portal to any of our RWIS solutions to collect your road weather data, analyze it all, and with the easy-to-understand visual indicators, help you proactively plan for condition-based roadway maintenance.
Our WeatherBrain software's user-friendly platform means you don't have to be an RWIS expert to use it. With no prior knowledge, you can gain accurate environmental intelligence to improve your roadway operations.
Learn More